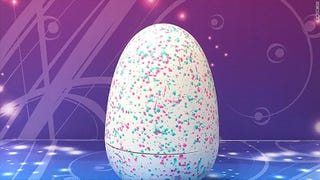 Looking for a new toy to keep your child entertained? Well, there is a new one coming out that you and your children will both enjoy.
Remember the days of playing with toys that did not require TV screens, iPads, or any electronic device for that matter? The toys that brought you joy because it was personal and something to take care of?
Whether it was a Barbie, GI Joe, or little Tamagotchi we loved them and they were a huge part of our childhood. Remember the Furby craze? This new toy may just top that!
It is about time get back to toys that allow children to use their imagination and teach important skills don't you think. Skills such as patience and nurturing.
Spin Master will be revealing the latest toy for their line this July. Hatchimals, a new toy set to be officially revealed this summer will do just that, and your kids will love them.
This brightly colored egg shaped toy has a secret animal inside that will appear after a little love and attention. All it takes is your children holding the egg for a bit before the animal inside hatches.
This toy brings back a genuine element of surprise that the whole family can enjoy.
In this day and age we love to capture everything on camera. What better moment than your child's reaction to a baby dinosaur hatching from an egg.
These adorably mysterious, yet magical creatures are interactive allowing hours of entertainment for the kids. The eggs are vibrant and colorful and very appealing to the eye.
Hatchimals are set to hit the shelves come this Fall 2016, and will be priced at $59.99.
For more information, visit: